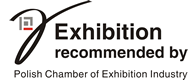 Ministry of Agriculture and Rural Development



Companies which joined us in 2018:


20.03.2018
Join exhibitors at autumn Polagra Tech today! Promotional prices till 6th of April. There is less than three weeks of time left! It's worth to plan your prescence at Polagra Tech Fair today!
07.02.2018
Since we're growing economy and developing rapidly, we provide you some insight into Polish economy and doing buisness in Poland. If you would like to know more, just click and find out.
12.12.2017
POLAGRA TECH is the largest event in the food technology industry in Central and Eastern Europe, consisting of two thematic salons. It is a presentation of the latest technological developments, new products on the market. POLAGRA TECH is one of the widest and most comprehensive range of food companies in one place and time.
More news
---

Reasonable combination = real benefits
Polagra Tech and Pakfood 2017