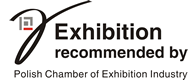 Ministry of Agriculture and Rural Development


Join to business events: Polagra Tech + Pakfood


23.04.2017
What has been happening in the retail sector for years leads to the consolidation of the fragmented meat industry. The first mergers are already taking place. The consolidation is a factual and, undoubtedly, long process. Being a perfect venue for having business talks, the Polagra Tech and Polagra Food Fairs are a real contractual fair featuring real-life business meetings and genuine relations thanks to which the industry is optimizing itself, thus adjusting its actions to market needs.
07.04.2017
– reach for more at Polagra Tech
24.03.2017
Polagra Tech and Pakfood are the best exhibition events for the food sector this year.
More news
---

Reasonable combination = real benefits
Polagra Tech and Pakfood 2017