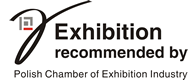 Ministry of Agriculture and Rural Development


27.09.2016
It was fantastic day.
26.09.2016
Whole exposition of Polagra Tech from Monday!
26.09.2016
Today, at 11:00 am next edition of the POLAGRA TECH and accompanying TAROPAK, LOGIPAK, EPLA, POLAGRA FOOD, POLAGRA GASTRO, INVEST HOTEL were officially opened.
More news
---

POLAGRA TECH 2016
We are very pleased to inform you that the International Fair in Poznań  preparing the next edition of the International Fair of Food Processing Technologies POLAGRA TECH. In 2016, as always even-numbered years, the exhibition hosted two exhibitions: food technology and bakery and confectionery products. POLAGRA TECH will begin on 25 September 2016 years Baker and Confectioner's Day, the next day will join food technologies. Total will last till 29 September.