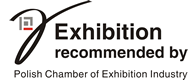 Ministry of Agriculture and Rural Development


25.11.2016
Modern folk sounds of food technologies!
04.11.2016
Bet on new opportunities!
18.10.2016
Clean Label, the largest event of the sector, finished on Thursday, September 29. It was an impressive exhibition, filled with novelties, market premieres and crowds of visitors from around the world. The great festival of the food, gastronomy and packaging sector involved 17 exhibition halls and was participated in by more than 63 thousand professionals. The list of the countries was impressive, ranging from Australia, to Asian countries such as South Korea, China, Taiwan, Thailand, to a great variety of Russian-speaking countries including Russia, Ukraine, Belarus, Lithuania, Latvia, Estonia and Kazakhstan. The fair was visited by European clients including all Scandinavian countries as well as Africa and North and South America.
More news
---

Reasonable combination = real benefits
Polagra Tech and Pakfood 2017