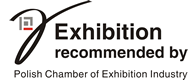 Ministry of Agriculture and Rural Development


Join to business events: Polagra Tech + Pakfood


22.06.2017
Sign up for the Polagra Tech fair until June 30 and benefit from lower prices and a package of promotional services prepared for our exhibitors!
29.05.2017
The competition for the most important trophy is now on the way! Make the first move - register your product! Win the Gold Medal MTP and then stand for the title of the Gold Medal - Consumers' Choice!
23.04.2017
What has been happening in the retail sector for years leads to the consolidation of the fragmented meat industry. The first mergers are already taking place. The consolidation is a factual and, undoubtedly, long process. Being a perfect venue for having business talks, the Polagra Tech and Polagra Food Fairs are a real contractual fair featuring real-life business meetings and genuine relations thanks to which the industry is optimizing itself, thus adjusting its actions to market needs.
More news
---

Reasonable combination = real benefits
Polagra Tech and Pakfood 2017