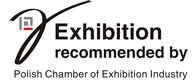 29.10.2018
On Thursday, October 4th, ended the most important event of the food, HoReCa as well as packaging and logistic industry which included International Trade Fair of Food Processing Technologies Polagra Tech, International Trade Fair for Gastronomy and Hotel Equipment Polagra Gastro & Invest Hotel and International Fair for Packaging and Labelling Technology Taropak. This autumn cycle of trade fair events was held in 11 halls and was participated by over 1100 exhibitors, and the number of professionals who visited the exposition exceeded 42 600.
08.08.2018
Additional awards for ice cream parlours and bakeries during the Baker's and Confectioner's Day at the Polagra Tech Fair.
07.06.2018
As early as in autumn, from 30 September to 4 October the next edition of POLAGRA TECH fair will take place on the premises of Poznań International Fair. This year, two exhibitions will be held within the Fair: the FOOD TECHNOLOGIES EXHIBITION and the BAKERY AND CONFECTIONARY TECHNOLOGIES EXHIBITION.
More news
---

International Trade Fair of Food Processing Technologies POLAGRA TECH
POLAGRA TECH is an event addressed to representatives of the food manufacturers' industry. During the fair, machinery and equipment is presented owing to which professionals of the industry will be able to introduce solutions generating business benefits in their companies. It is also an ideal place to present food components and additives. During POLAGRA TECH it will be possible to get acquainted with the latest solutions allowing to pamper taste buds and aesthetic impressions of contemporary consumers.
Within POLAGRA TECH fair, two exhibitions will take place: the FOOD TECHNOLOGIES EXHIBITION and the MEAT AND FISH TECHNOLOGIES EXHIBITION.