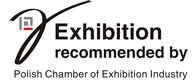 08.08.2018
Additional awards for ice cream parlours and bakeries during the Baker's and Confectioner's Day at the Polagra Tech Fair.
07.06.2018
As early as in autumn, from 30 September to 4 October the next edition of POLAGRA TECH fair will take place on the premises of Poznań International Fair. This year, two exhibitions will be held within the Fair: the FOOD TECHNOLOGIES EXHIBITION and the BAKERY AND CONFECTIONARY TECHNOLOGIES EXHIBITION.
07.06.2018
In the context of this year's edition of Polagra Tech fair, we will cooperate with the Ukrainian Bakers' Association. This organisation has become an industry partner of the fair and it will promote the idea of the event among Ukrainian professionals of the industry.
18.04.2018
Two salons and maximum business opportunities. This fall there will be two exhibitions: BAKERY AND CONFECTIONARY TECHNOLOGIES from 30/09 to 4.10 and FOOD TECHNOLOGIES EXHIBITION from 1 to 4.10
17.04.2018
Plan your visit. Check the current information about innovative products, special events, companies which are going to participate in the POLAGRA FOOD Fair.
20.03.2018
Join exhibitors at autumn Polagra Tech today! Promotional prices till 6th of April. There is less than three weeks of time left! It's worth to plan your prescence at Polagra Tech Fair today!
07.02.2018
Since we're growing economy and developing rapidly, we provide you some insight into Polish economy and doing buisness in Poland. If you would like to know more, just click and find out.
12.12.2017
POLAGRA TECH is the largest event in the food technology industry in Central and Eastern Europe, consisting of two thematic salons. It is a presentation of the latest technological developments, new products on the market. POLAGRA TECH is one of the widest and most comprehensive range of food companies in one place and time.