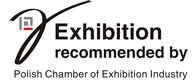 Polagra Tech 2018 in autumn
Two salons and maximum business opportunities. This fall there will be two exhibitions: BAKERY AND CONFECTIONARY TECHNOLOGIES from 30/09 to 4.10 and FOOD TECHNOLOGIES EXHIBITION from 1 to 4.10
International Trade Fair of Food Processing Technologies POLAGRA TECH is an event that attracts a selected group of professionals, including management staff of food processing plants, specialists in production, supply, maintenance engineers, technologists, health and safety specialists, bakers and confectioners, and representatives of retail chains. This is a unique opportunity for them to get acquainted with the latest offer of the food technology sector at one place and time.

From components and accessories to industrial production lines

Here, visitors from around the world can find inspiration for the creation of new tasty flavours. High quality and meeting the expectations of consumers are the main arguments that attract customers. The success of final products is determined equally by the smell, appearance, form, texture, texture of food and even the sound it produces during consumption. All the above affect how the customer receives the product. It is therefore, at the Poznań International Fair, to present the offer of machines, devices, food additives and all other elements used in the production of food products. POLAGRA TECH 2018 is a wide offer for the food technology industry, i.e. You can see both equipment for food packaging, as well as control and measurement equipment, hygiene measures and protection against pests, cooling equipment, bottling, fruit and vegetable, dairy, for the production of pasta, as well as means of transport.
For years, POLAGRA TECH has been supporting the development of trade on the national level as well as with contractors from around the world. Their formula allows primarily to acquire new, reliable business partners. Additional events accompanying the fair, such as conferences and lectures, are also conducive to this.
This year, as usual in even years, there will also be a large salon of baking and confectionery technologies, where producers and distributors of Polish and world brands will present blends and components as well as entire technological lines for the confectionery, bakery and ice-cream industry. This means new ideas for creating tasty and new products that can be obtained using modern equipment and using the latest components. Everything to develop and expand the range of products. In addition, masters of baking and confectionery will share their experiences and knowledge.

A unique offer for the food, bakery and confectionery technology sector this autumn in Poznań!

The International Packaging Technology Fair will also take place on the same date
and TAROPAK Labeling, Polymer Tech, 4Print Week and International Trade Fair of Gastronomy
and Hotel Equipment POLAGRA GASTRO / INVEST HOTEL.