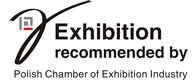 Ukrainian Bakers' Association - industry partner of Polagra Tech
In the context of this year's edition of Polagra Tech fair, we will cooperate with the Ukrainian Bakers' Association. This organisation has become an industry partner of the fair and it will promote the idea of the event among Ukrainian professionals of the industry.
The Ukrainian Bakers' Association has been operating since 2003 and its seat is located in Kiev. It associates several dozen representatives of Ukrainian companies, institutions and organisations operating on the bakery market in Ukraine as well as in neighbouring countries.
We feel honoured that the Trade Fair of Food Processing Technologies - Polagra Tech, organised by us can rely on the support of the Ukrainian Bakers' Association. We believe that the cooperation commenced this year will continue on the occasion of the next editions of Polagra Tech.
More information about the Association can be found on the website: http://vap.org.ua/en/