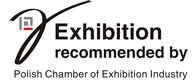 Why is it worth taking part in the 2016 fair?
POLAGRA TECH International Trade Fair of Food Processing Technologies is a very well-known brand among the companies from the food industry. Every two years, one of the fair exhibitions is dedicated to bakery and confectionery sector.
The fair has been for years an attractive business meeting for the industry. The event is evolving; it is a venue of many technological debuts and novelties. For years it has been setting trends in the food technology market.
MTP, due to the long-term, trustful and regular cooperation with exhibitors, spares no effort to make the exhibitions of POLAGRA TECH to be those setting trends in the food technology market.
The next edition of the exhibition will see representatives of the following market segments:
Bakery and confectionery industry – producers and distributors of machines and technological equipment for the baking, confectionery and ice cream industry, forming, batching and packaging machines for food industry, food ingredients, components, means of transport, work safety and hygiene, information and services
Food processing industry – producers of food and preserves, among others fruit and vegetables, dairy, cereal, pasta, bakery and confectionery, soft drinks, seasoning, catering products, machinery and appliances, among others OHS and technical departments in facilities producing equipment for food and catering industry, devices used in company waste management, and ventilating, refrigerating, and air-conditioning technologies.
MTP, due to the long-term, trustful and regular cooperation with exhibitors, spares no effort to make the exhibitions of POLAGRA TECH to be those setting trends in the food technology market.
Because many took advantage of the fair offering, knew how to use the opportunities provided by POLAGRA-TECH and are regular fair clients.
Read what those who have met with us many times at POLAGRA-TECH say about this biggest trade meeting for the meat and food industry in Central and South-Eastern Europe:
Bogdan Czarnecki President of Bizerba Polska Sp. z o.o.
We receive big attention, we conduct promising talks, many customers visits us. I am very happy with this year's edition of the fair.
In comparison with last year, this year's edition seems to be very good. We receive big attention, we conduct promising talks, many customers visits us. I am very happy with this year's edition of the fair.
POLAGRA – TECH trade fair in Poland is one of the bigger trade fair events in Poland. We have been participating in the fair for many years. Yet in the 90's, Bizerba exhibited its products on this fair. At that time, we were working on implementation of modern Bizerba equipment in Poland. Poland is a very important sales market of Bizerba products. Polish food and meat sectors know these products very well, respect them and appreciate the results they deliver in production processes.
We are happy to have such a good brand and participate in the fair. Bizerba devices, which have been operating for many years, from time to time need to be replaced for new ones, simply because of the arrival of modern technologies and technological development. Polish industry is on its way to achieve the same level of technical base as the one present in Western Europe for a long time, and what's more, in part, some companies are at even higher level. The potential of Polish market is enormous.
The devices demonstrated by us at the fair are only some of the devices that we produce and sell. We present all machines and devices produced by corporation Bizerba in paper and electronic form. At our partners stands' you can also see other Bizerba products, which at this fair complement whole portfolio of Bizerba Polska and Bizerba global corporation offers.
________________________
Wacław Szafran – President of the Management Board ECO TRADE Sp. z o.o.
First day came as a very nice surprise, since the number of visitors was way higher than we had expected. There were visitors from Poland as well as those from abroad, about whom we had not even dreamed of. We are very pleasantly surprised.
POLAGRA – TECH is a very important trade fair for us where we meet all our customers, both from baking and confectionery industries. We are very happy that this fair is organised every second year. This event is of great importance both to Poland and Central Europe.
ECO TRADE has been producing additives for baking and confectionery industries for over twenty years. These are products of eco base, therefore the company's name is ECO TRADE. These products have been recognised not only on the Polish market, because we also export them to England, Germany, Hungary, Czech Republic, Slovakia, Ukraine and other European countries.
We are very delighted with the fact that we won a Gold Medal for product 'Krajan'. This type of bread contains high amount of fibre, what contradicts opinions of many experts who claim that bakery products are unhealthy.
Bakery products are indispensable for maintaining a healthy diet.
________________________
Agata Ruszkiewicz – Zawidzka – General Manager Komplet Polska Sp. z o.o.
POLAGRA – TECH is highly important to Komplet Polska. This year we are celebrating the 20th anniversary of our existence on the Polish market. This is a jubilee year for us and in general, since the beginnings of our company, i.e. since 1994, we have always been present at this trade event.
POLAGRA – TECH is a very relevant marketing event. We are a well – known company on the Polish market and I believe that we owe it to our customers to present our company, create an opportunity to conduct business meetings, demonstrate new products, the offer that we continuously try to modify and adjust to customers needs. We do think that this is a very important event.
Komplet Polska is a producer of mixtures and components for bakery and confectionery sectors. We are known by bakers and confectioners. We are a producer in the B2B sector.
________________________
Jarosław Słota – Director of Sales of Baking Devices Department PRO ASCOBLOC Sp. z o.o.
POLAGRA – TECH is the most important trade fair in a year for us. Our offer includes not only equipment for baking and confectionery sectors, but also devices for gastronomy and food processing, which you can see here at our stand.
At this trade fair we focus on machines for baking and confectionery industries. We cooperate with companies that deal with baking technologies, we ensure aid in implementation of these technologies and consulting services for bakers and confectioners. This trade fair is the most important fair for us. It is very relevant in terms of perception of our company on the market.
The logos behind me constitute a conglomerate which belongs to one owner, that is why we are exhibiting together. This overlap is present because these companies offer food industry products, including bakery and confectionery industries, as well as gastronomy, fruit and vegetable or meat processing. Our offer obviously includes also furniture for gastronomy.
________________________
Sebastian Sęk – Product & Development Director ULDO Polska Sp. z o.o. & Co. Sp.k.
For baking industry on the Polish market, very crucial trade fair events are POLAGRA - TECH and BAKEPOL. These are the only trade fairs where we can present our vast offer of bakery products. These fairs ensure a possibility to present novelties that appear in our company every year, or I would not hesitate to say that even a dozen or so times a year.
Participation in the trade fairs gives us an opportunity to present the products to wider audience, reach customers who are not yet reached by our representatives. The trade fairs help us develop our customer relations and introduce novelties that are completely innovative on the Polish market. An example may be bread with black sesame or Indian bread. Many customers don't even have a clue that such thing as black sesame, which is very popular in India and in Poland can be found mainly in organic food shops, exists. And here at the fairs, we present the bread that not only is sprinkled with black sesame, but also contains black sesame in it.
________________________
Paweł Wroński – President of the Management Board Winkler Wachtel Polska Sp. z o.o.
I am very happy that customers, who we had hoped for, found the time and visited our stand. POLAGRA – TECH is the most important way of presentation and promotion for us. Press releases are important, but they are not a major thing. Here we can invite all our customers and this is the time that they come to visit us and we do not have to drive across Poland to visit them. This is also an opportunity to have the customers see our offer and the offer of our competition. We do not have anything to be ashamed of and are willing to take up this confrontation.
POLAGRA – TECH is the only trade fair that we participate in. Our offer includes mainly stoves for craftsmen bakeries and cooling units. We divide bakeries into craftsmen and industrial. At the moment, as a result of polarisation of bakery products market, bakeries which deal with production in craftsmen way, produce as many bakery products as industrial ones, but their bakery products are better, produced in other way. A product coming from a craftsmen bakery is developed in all possible details. These are our best customers who need highest quality devices, and this is what we deliver.